I made contact with Padre Pio this week.
We were in a hospital for the healing. Padre Pio announced himself and expanded frequencies when I focused on the centerpiece of a rosary. When I mentioned it after the healing, a relic that was in the room was brought to me.
As I held the Relic of Padre Pio and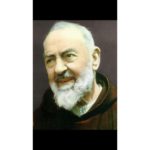 deepened into the energy, I heard two things from Padre Pio. First, 'I am with you'. The welcoming carried a timeless, universal resonance. As I deepened in contact I heard 'your body is my body'. Time was of essence and I took but a moment in this impressioned space.
The Archangel Michael came through clearly in this healing. As I shared his presence following the healing, I learned that he is the patron saint of the family. The son had placed a jar of Holy water in the room. He has an infinity for Michael.
A friend accompanied me into this healing. I followed my guidance in having her anoint me before we entered the hospital. I anointed her first. I affirmed this anointing with courage. I was aware, to some degree, that we were there for divine contact. Bless her in having faith in my vision.
The issues being experienced in body, the events that called for healing were revealed with clarity. I will hold the revelation sacred. I'm witness to being a vessel for healing.